Имеется Slack desktop на Arch Linux.
Устанавливался из AUR, работал обычно без проблем.
Но в какой-то момент перестал запускаться, ругается на 'appTeams' property:
slack
Initializing local storage instance at path: /home/setevoy/.config/Slack/local-settings.json
Failed to get path for key, this may be expected: /home/setevoy/.config/autostart
(node:24199) [DEP0005] DeprecationWarning: Buffer() is deprecated due to security and usability issues. Please use the Buffer.alloc(), Buffer.allocUnsafe(), or Buffer.from() methods instead.
(node:24199) UnhandledPromiseRejectionWarning: TypeError: Cannot read property 'appTeams' of undefined
...
Версия:
Даунгрейд на 4.8.0 не помог.
Решение – снести весь каталог ~/.config/Slack.
Учтите, что при этом все текущие сесии будут удалены, и придётся заново подключаться во все чаты.
Удаляем:
Перезапускаем: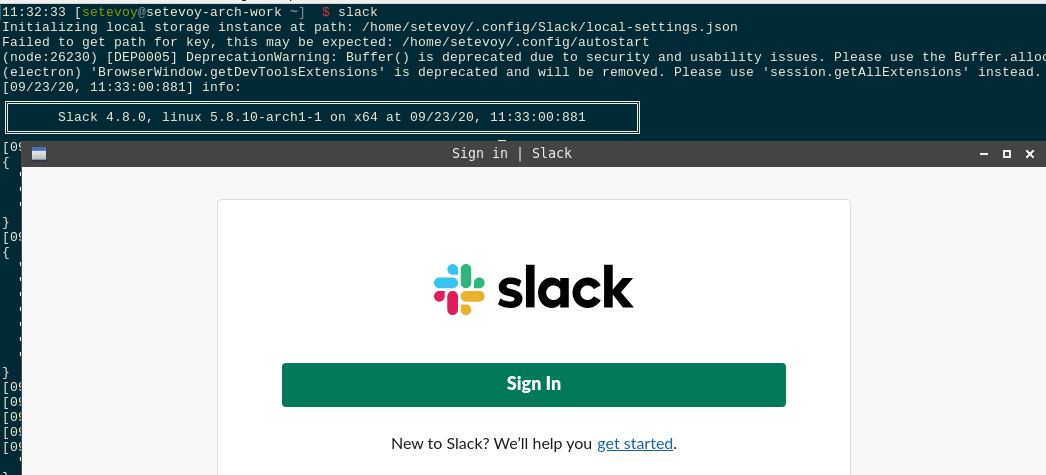 Готово.